Hello Everyone, yucky!
That day HoloLens Hackathon's day came.
This time I will summarize the patterns of the first day!

About this event
Purpose of holding
This time,
While you are there, you can experience the world fused with virtual space,

Welcome to the near future world!

Let's experience the planning and realization of the application running on Microsoft HoloLens in 2 days!
That's the biggest theme.
By developing MR applications,
that work with HoloLens while solving problems in groups beyond affiliation, 
aiming to produce fun and unique things.
Venue
It was chosen as the venue,
Mrise is located in the Umeda campus of Kansai University in Umeda, Osaka.
It will be held over two days here.
As a venue offer, thank you for sponsiting at the Kansai University Umeda campus and startup cafe Osaka too!
Participants
And as a target for this time
· Beginners who want to experience HoloLens' real-world world in the future

· Those who want to make new things beyond belonging or organization

(Planner · designer · programmer · creator)

· Experienced person · Craftsman

· Artist (people with experience in music, paintings, design etc.)

· Holo Ranger (one who has worked on the development of HoloLens)
 It is quite wide, and even in actual participants
Many inexperienced developers of designers and 3D contents were also seen.
This judge

Japan Microsoft Co., Ltd. HoloLens Technical Evangelist
Shinobu Takahashi
Not only HoloLens but, also Windows 10 application development,
UI / UX, cloud technologies
Extensively familiar with and actively participate in various events such as seminars and hands-on.
Unity Technologies Japan Associate Company Asset Store Manager
Mr. Takashi Jona
(Funny Unity Y-shirt wiritten in "katakana" )
From 2014 he joined Unity Technologies Japan as an asset store manager.
Currently we are doing activities to increase assets and asset writers,
and to increase the number of senders of necessary information, for utilizing assets.
Organizer and sponsorship company
Organizer

Osaka Drive Development - connpass
Mainly in the Kansai region centering on Osaka, 
an organization holding various IT related events.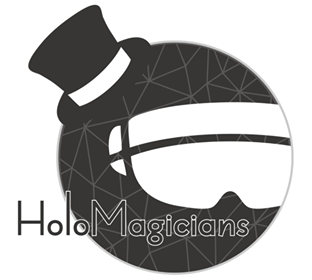 Developer, designer, creator group interested in HoloLens.
They has held study sessions in various places and has development sessions, Touch & Try, ideathon and Hackathon.
Sponsors
TSUKUMO · GONENGO LLC · JASEC Japan e-Commerce Association
Meister-Guild ·Eiwa Co., Ltd.  · Next Scape Corporation
From idea song to team building and development.

(Left: Samsung Odyssey Right: Microsoft HoloLens)
It is frightful to draw ideas in a short time
At the end of the reception of the participants,
they got about each of my favorite seats
Ideathon started promptly as quickly as I explained the purpose of this event.
However, the prepared time is 15 minutes.
The amount of ideas issued in that limited time is amazing!

↑ Even this is only a fraction of the total amount.
Specific APIs are specified and specific ideas such as using stereophonic sound are coming out
I can see the seriousness of developers.
Team creation is also innovative
It became the ideaison's time limit, and after that, using Slack
A simple polling place will be established.

↑Oh sorry.. it's Japanese only

Teams were created with the number of votes cast,
and in the end they started working with a total of seven teams.
And it is time to start development
Some developers work from a team of up to nine people or one person.
Presentation of impact from intermediate announcement · · ·
And the time passed, it was time for the middle presentation
How to develop ideas brushed up by each team in the direction
Together with the judges to the pitch tournament.
Explanation of development scenery at MS company by Mr. Takahashi.

It is also very important for global large companies,
to conduct analog work such as posting ideas and creating MR demos using models.
Even after that, development took place with the support of engineers
and advanced to the night section.
Even if it is near the end time, it will not cool down development fever

With the momentum intact after the interim release,
Engineers continue to develop until the closing time of the venue.
Meanwhile Mr. Tsunema

"Monster energy drink" that can make a tower,
That day, sometimes it is called "Setsubun"*1,
there are also cases such as the introduction of "Ehomaki"*2 from the sponsors
Support for participants is also wonderful.
Then, the first day Hackson came to an end.
Another event of Hackathon

Mr. Takahashi and Mr,Jona who is coming to Osaka, the first day finishes safely of event. In addition to both persons,
preliminary launch with other operators at Kushikatsuya near the venue!
Mr. Takahashi spoke hotly about Microsoft's internal situation and future prospects for Japanese companies.
Hackathon is very excited is also finished development at 17 o'clock the next day.
I am very interesting about how it will be done product completed, from the interim presentation!
So I will write the second day next time!
Well then, bye-bye!